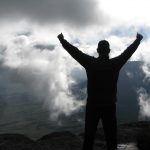 There's One Question Above All Others
How are YOU holding YOURSELF back from your greatest professional success?
The fact is that your level of professional success is limited by your level of personal mastery.  
That's exactly why I'm here . . .
Q1:  "So . . . what do you actually DO?"  
A:  I coach people to excel by empowering them to . . .
develop the internal assets* required for peak performance
achieve high-impact goals.
*an "internal asset" is an inner strength, quality, or strategy that sets us up for success, eg, mental toughness, emotional resilience, inner calmness, strength of spirit, depth of character, etc.  This is the foundation for all high performance.
Q2:  "Who do you work with?"
leaders who are high performers who strive to become elite performers
professionals who struggle to get to the "next level"
anyone who has the courage to excel
Q3:  "Why should I work with you?"
Option 1, For Your PERSONAL DEVELOPMENT
BOTTOM LINE:  so that you can develop the areas that have been preventing you from reaching your greatest performance potential--expanding your capacity into who you NEED TO BE to succeed at the level you're pursuing . . .
going from the "Minors" to the "Majors" will require Major League strength
do you know the 3 essential skill sets?  They don't teach them in school
move up my "growth spectrum":  improvement -> excellence -> mastery
I've identified the "HOT LIST" of personal assets that every elite performer has developed at least minimum competence in--what about you?  Many are surprised when they find out what's on this list of essentials.  This list becomes our foundational curriculum when we work together.
I typically begin with the internal--mastering your spirit and building your mental power--as these are primary to every other skill that's required for elite performance in any realm, and frankly the main sticking point for the vast majority of people who struggle with performance.
I have professional training and expertise helping people develop their MENTAL STRENGTH and resilience--this is what I've been doing since "Day 1" (even before Day 1, as part of my own personal journey, over 40 years ago).  Your success is dependent on how well you can harness the power of your mind.
Example:  Bill had all the promise in the world.  A rising star in the company, many thought he was on the fast track to the C-Suite.  Except for one thing--his horrible temper.  He's alienated some of his peers, and worse, blew up one big project (no pun intended) because of his temper, costing the company quite a bit of money.  In many ways Bill is brilliant and gifted, but unless he learns to control his spirit and "master himself", his potential will never be fully realized.
FACT:  the research shows that Emotional Intelligence (EQ) is often a much greater contributor to our professional success than either our raw intelligence or our technical expertise.
I'll help you develop your EQ and related skills--you CANNOT rise higher than your level of EQ in your professional success.  This deficit is what holds many also-ran's back while their contemporaries pass them by.
I've seen a ton of highly trained "smart people" (executives and leaders) just not get it, either settling into a limited, status quo performance spectrum, or eventually crashing and burning, often taking everyone with them on the trip downward.
Option 2,  For Your GOAL ACHIEVEMENT
to reconnect with your core values and deepest purpose
to clarify what a high-impact target is for you, at this point in your life
to create laser-focus on what is most important right now
to be expeditious and save you time in achieving your goals
to get both accountability and a cheerleader, achieving your goals faster
to have someone point out your blind spots so you can keep progressing
to build momentum
to stoke your courage so that you keep taking massive action
Example:  Jane is stuck--she's been "flat-lining" in her professional growth, as well as her own personal growth, for the last year.  Jane feels like she's been pursuing everyone else's agenda, and has lost her way in some respects.  She's starting to feel depressed.  Jane feels she needs a major kick-start, but not sure how to get going again.
Q4:  "But why should I work with YOU?"
I have no idea if you should or not.  Let's have a trial session together and we can both decide if we want to work with each other--no cost to you for this intro meeting.  Contact me here for that.
What I DO know is that I have over 30 years of professional experience (with the degrees and the credentials and all that fancy "official stuff") doing only one thing--empowering people to excel.
While having experience doing the same thing for so many years is never a guarantee of someone's skill and effectiveness, one thing's certain:  there's no substitute for veteran experience.
I've done this work with a wide variety of clientele and in a diversity of settings, over a long period of time, giving me a rich perspective and depth.
Over this time I've field-tested pretty much every idea under the sun, so I know what works and what doesn't, and for whom.
I've also had these 30 years to develop and tweak my own process of how to get strong results for my clients.  I've stripped it all down to the pragmatic essentials, which makes me fast and efficient, yet complete.
Q5:  "Can't I just Google the solution, or hire a consultant for the answer?"
Sure, assuming the solution and "answer" you get is the exact one you need.
However, keep in mind:  knowledge is not achievement.  In other words, just because you learned the answer about WHAT to do doesn't mean you know HOW to do it.
Or, some actually do know how to do that particular thing, but never take enough action to "get there".  They fall short in the implementation and execution.
But I'm guessing you've already done these things--you've Googled, you've read books, maybe you've brought in the consultant.  Have they helped you "hit your bull's eye"?
What you get with me, as your coach, is my presence, walking with you towards excellence, as well as my PROCESS--3 decades in the making.  This is the specialized "HOW" that I use to move you into achievement.
An effective process is intuitive, flexible, and focused, and a good leader of the process "just knows things"--things that others don't easily see, efficiently moving people towards their targets.
This only comes from experience and doing one thing for a long time.
So then, much more than content and "answers", what people often really need is:
an effective process to apply the solutions
an expert leader of the process to guide them into achievement
a process and leader that draws out their greatest strengths
a process and leader that challenges them to go further and faster than they ever would themselves
As great as Google is, it can never do these things.
4 WAYS WE CAN WORK TOGETHER
1) Group Coaching.  This is truly a life-changing option.  Where can you find a small group of people who are all committed to reaching their biggest goals AND totally invested in YOUR personal success?  There is amazing energy, inspiration, and support in these groups ("communities", really).  The faster way of reaching your "stretch goals" is to get connected to a community . . . the slower way is doing it all yourself (don't do that).  All my groups are virtual--over the phone, Skype, etc.  You can participate from anywhere.  Click here to join.
2) Membership Community.  (IN DEVELOPMENT) This is where you pay a monthly fee for access to private mastermind groups, webinars, best-practice protocols, all my online courses, and the amazing support and community from other members.  This is where the exciting stuff happens!  For more information, go here or click on the "Membership" tab.
3) Online Courses. This gives you the advantage of working through one of my online courses at your own speed.  This is a highly effective way of being coached, and many actually prefer it to "live" coaching sessions, because they can take the time to digest what I'm saying, and think through their responses.  This can give us a more effective coaching conversation, sometimes one of deeper substance.  The modules are available to you 24/7, so you can work on them whenever it's convenient for you to do so. Check out The Cox Academy for High Performance.  Of course, if you join my monthly membership community, then you'll have complete access to all of my courses as part of your membership fee . . . or you can pay the full price, one course at a time, in my online academy.
4) Private Coaching. This happens via phone and video conferencing. If you're not part of my membership community, and you're wanting to personally speak to me "live", and be coached in a particular area, then this package is for you.  It will allow us to get much more in-depth than the Online Coaching option. There's much to say about this, but if you have some interest, or perhaps have questions, email me and put "Private Coaching" in the subject line. I will get back to you and we can discuss the details.
I offer the following high-value packages for my private clients.  Please email me for details.
30-Day Deep Dive

90-Day Acceleration

(my most popular package)

1-Day Intensive
Private Weekend Retreat
There are no quick fixes and magic bullets.  Real change takes time.  Those serious enough about change and excellence realize this.
However, for those who really want to try coaching, but are not yet ready to commit to one of my premium packages, I do offer a ONE-MONTH STARTER PACKAGE.  If interested, please email me, and we'll discuss the details.
COACHING IS NOT THERAPY 
While  there may be some similarities between certain forms of psychotherapy and coaching, and at times there may even be some crossover, therapy and coaching are two separate and distinct processes.
Generally speaking, counseling (or "therapy") has more latitude to "go beneath the surface" and uncover unrecognized causes to problems.  Coaching is more concerned with a person "hitting external targets", goal achievement, and vision fulfillment.   Coaching CAN certainly take an internal focus at times, but there's a line it doesn't cross, to avoid becoming a therapy session.
While I have many years of experience as a therapist and behavioral health consultant (which is a great advantage for my coaching clients, because experienced therapists have deep, specialized skills and knowledge that aren't easily obtained elsewhere, and are of great usefulness in the coaching process), I am NOT doing therapy with you if you enroll as one of my private coaching clients.   Strictly coaching.
A few of the specific advantages, though, of having a seasoned therapist as a coach are that:
I understand the deeper reasons that people do things
 I understand the reasons that people get stuck, often by their own self-sabotage, and how to defuse these things
I understand the ingredients that lead to deep, meaningful thriving--some not so obvious--and the processes of development that "work"
I understand, by a lot of trial and error, what solutions work best, and which ones have the lowest return on investment
I have a great "gut", and know quickly when a person is moving in the "wrong" direction.
Again, we're not doing therapy here, but I bring this knowledge and experience with me, which only helps me help you more quickly.
However, if you're in the Chicago area and you'd like to see me face-to-face for Professional Counseling, please contact me and let's talk.
-Sean Cox, Chicago IL
________________
Join our community and receive my free blog updates on peak performance, delivered straight to your inbox.  I'll include my FREE e-course "7 Simple Essentials" (a $297 value).
________________