Your Success Doesn't Happen By Accident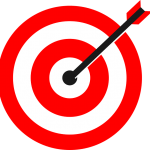 Your success, however you're measuring success these days, happens by having 2 things:
a clear target
a smart plan
Without these 2 elements, you're going to wander.  Let's face it--you'll wander a lot, and waste a lot of valuable time.  This leads many to frustration, stress, anxiety, and even conflict . . . and sometimes takes us down a path of anger and depression.
Let's bring strong clarity and laser-like focus to your 2018, and create a path that leads you to greater achievement.
High-Impact Goals
I'm running a group that assists people in creating and achieving high-impact goals.  Geography is not an issue--we'll group-up via tele-conference and/or video-conference.
Come learn my process, experience deep support and comraderie, and actionable feedback where necessary.
This group is for everyone, regardless of your profession or your pursuit, because the focus is on my process, and you implementing it.  My process works with any goal, personal or professional.
We all tend to achieve our goals much faster when we have the structure and support of a group.  Sadly, most have never experienced this type of group--for many who have, it becomes a "secret weapon".
For more information, contact me here, and put "Goals Group" in the subject line.
I look forward to partnering with you and seeing you hit your bull's eye.